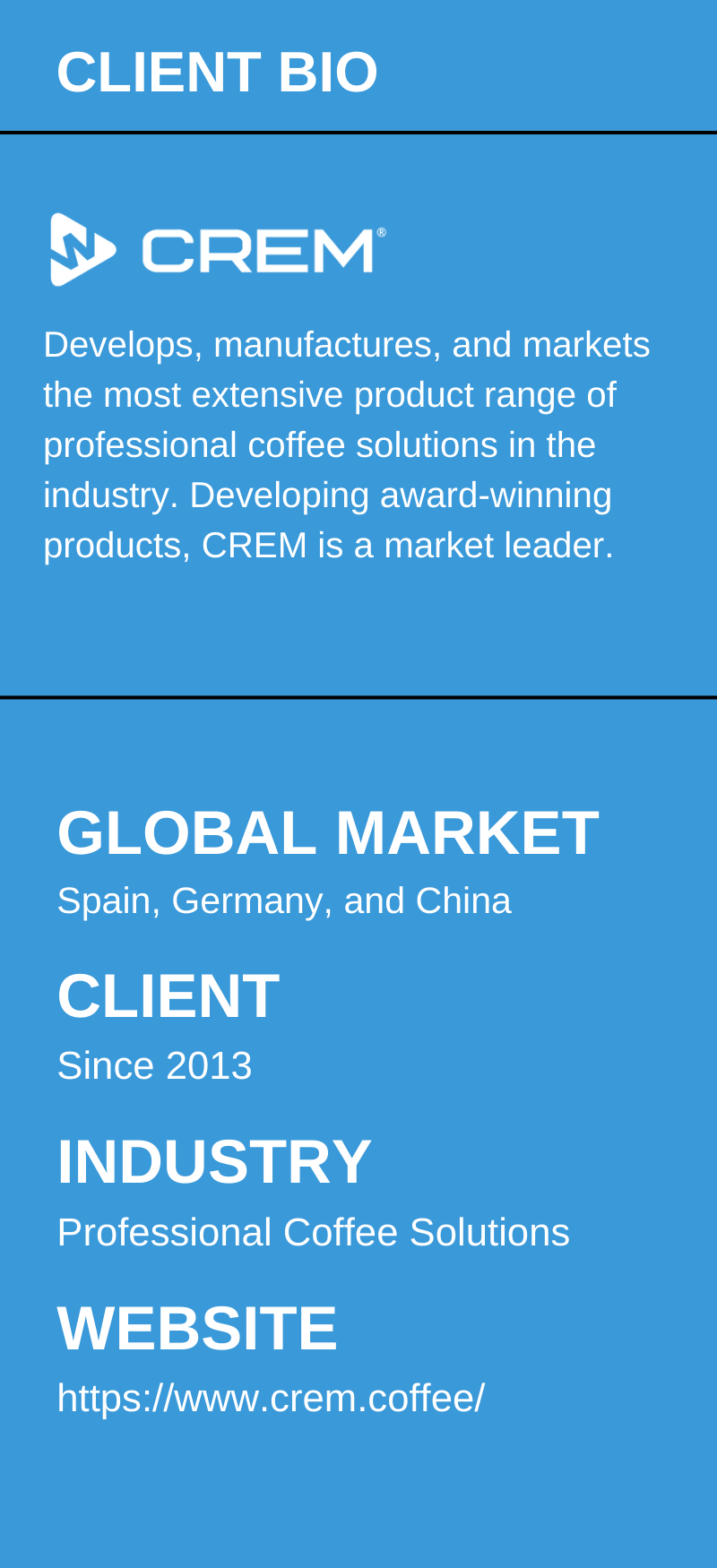 CREM International develops, manufactures, and markets the most extensive product range of professional coffee solutions in the industry, leading the market in design and manufacturing. CREM International has headquarters around the world, including Spain, Germany, and China. Most noticeably, CREM produces the EX Line product line, which is an award-winning professional coffee solution.
The 1time Time Tracking Software is used within the Research & Development department of the CREM for around > 30 staff members
CREM International needed a time tracking solution where project focus and effort distributed across activities could be tracked and reported. The primary focus of CREM International's R&D department was to track time on projects.
CREM also needed a partner that focuses on customer service with an open, personal communication service available.
This is where 1Time comes in; being the first to deploy a time tracking solution on a web-based "Software as a Service" solution basis, we were the best fit. With a richness of functions available, including the ability to define clients within a client portal, it is easy to visualize time spent on projects, design, budget revenue, costs, and hours, and track profitability through a reporting dashboard within the 1Time solution.
Recently, CREM International approached us with a request to make changes to a Report.
Through open communication and strong customer service, 1Time took these requests on board. We swiftly adapted the reporting functions to better fit the needs and requirements of the client. As a result, these changes allow better insights for unbillable clients, projects, and employees for CREM.
CREM continues to utilize the 1Time solution daily to track activity types with relation to effort distribution and effort and capacity management. When CREM needs reports, they are readily available to download, and easy to manipulate.
"We feel the tool is simple to use and very intuitive although providing all the required functionality. We have also experienced very good customer support from the team whenever we have required any input or report personalization. 1time tracking is a fundamental tool for us to understand our actuals and plan our capacity and forecast within the R&D department."