5 Reasons You Need To Invest In Time Tracking Software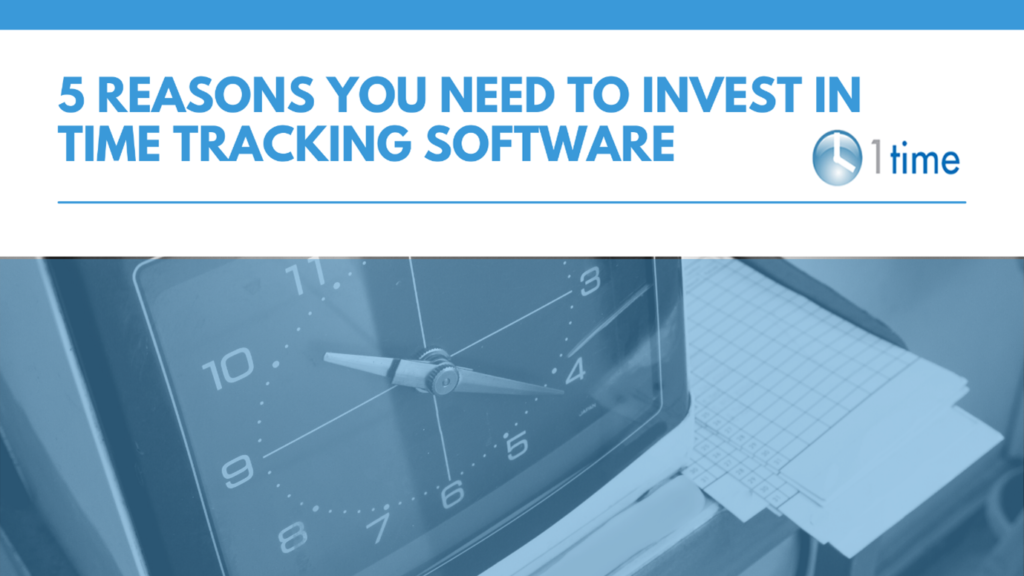 Today's blog is going out to all you finance, HR, and payroll managers that keep every business afloat, the ones whose jobs go largely unnoticed (unless they make an error) and comes with countless headaches!
We're here to give you five ways that investing in time tracking software can make your life a little bit easier.
1. Streamlined Payroll
Everyone loves payday, but what if you're in charge of payroll? Let's be honest payroll can be a tedious, time-consuming, and error-prone function for businesses of any size. But what if I told you that you could reduce the time and effort that goes into payroll.
Time management software automates employee time and attendance removing the need to undertake manual calculations for payroll processing. Automating these processes also reduces the likelihood of errors.
I'd call that a "win-win" wouldn't you?

2. Accurate, Transparent Billing
If you're a client-based organisation you want to ensure you have a system in place that allows you to bill accurately.
Integrating time-tracking software allows you to charge your clients fairly and transparently. Time tracking software maintains a detailed record of the time spent by your team on specific projects.
Having this accurate data reduces discrepancies regarding time and cost with existing clients and give you better insight when discussing pricing with new clients. With a transparent billing system in place, you can eliminate all confusion or inaccuracy in billing.

3. Reduced Costs
The bottom line for any business is profits and business owners are constantly looking for ways to reduce costs to increase profit.
Implementing time tracking software allows you to better understand your company workflow. Tasks and projects that are taking too long to complete and problem areas that may be affecting profitability can be identified and actions are taken to rectify the situation.

4. No More Chasing Employees
It can be a real headache to get employees to not only fill out their timesheets but also get them to you on time. If you're relying on employees to fill out timesheets, there's a high probability you've sent countless emails to ask for them to be filled out on time.
Time tracking software can take the stress out of timesheets by automated notifications to employees to fill out their timesheets. You can send daily or weekly reminders to ensure you're not left without timesheets when you need them.

5. Employees Manage Their Own Time Off
Keeping track of your own holiday days can be difficult, trying to keep track of your entire organisation's can be an absolute nightmare.
With time tracking software, employees will be able to access accurate records of their vacation time or unpaid leave. Leaving you with one less thing to worry about and employees feeling a sense of ownership and more control of their time off!

Now is the time to invest in time tracking software, the right software can deliver several benefits in the day to day and long-term operations of your business (and make your life a little easier).
Here at 1time, we understand that you don't want to invest in something without being completely sure it will be a fit for your company. We're convinced we can benefit companies with our time tracking software, which is we offer a 30-day free trial. You can sign up here, we're sure you're going to love it!
Hey, like this? Why not share it with a buddy?
Related Posts