Feature Updates on 1Time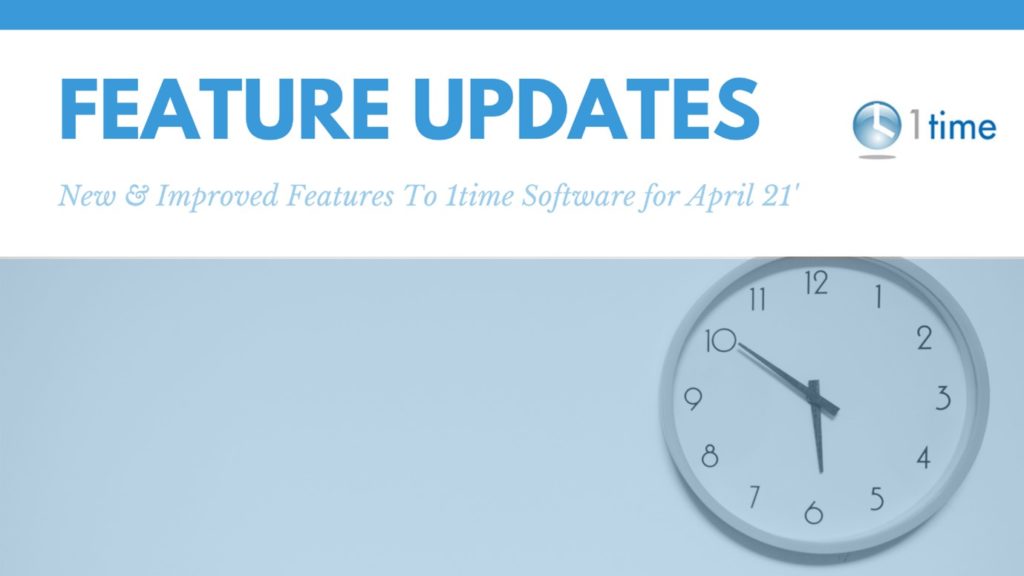 Here at 1time we are always looking for ways to improve our software, we are pleased to announce that we have rolled out a few updates which are available on 1time now. We have strived to improve existing features and listened to customer feedback to develop some new ones, so without further ado here is a look at the changes we have made.
Approvals: Timesheet approvals and Time Off approvals can now be handled separately, so you can now choose to enable just one if needs be. You now have 2 separate checkboxes in your "Approvals/Time Off" settings, one to enable timesheet approvals, and one to enable time off approvals. We have also made some changes to the approvals interface to make it more intuitive, such as the addition of a new Time Off calendar in the "Time Off Summary", which makes it quicker and easier to see what days you or your employees have booked off.
Project Estimates: You can now enter an initial estimate for the amount of hours you expect will be spent on a certain project or project task. The estimate will be displayed, alongside the hours spent on the project details page, as well as in some reports. This feature, along with the existing budgeted cost feature, should provide more clarity on how your project is progressing. To add an estimate to a project, just go to the project details page, and click "Edit", where you will find a new field "Initial Estimate (Hours)".
Reminders: There is now an option to send out a weekly employee reminder as well as, or instead of, a daily one. Reminders can now be configured to be sent out on whatever day the administrator chooses and will detail the shortfall of hours for the previous week. It can also provide a direct link to the week within 1time for easy time entry. We have also added some additional scheduling options for the daily reminders to provide more flexibility.
Utilization Targets and Emails: It is now possible to add a target utilization for each employee, and to send out weekly emails to let your employees know how they are doing. This should help keep employees motivated, as well as giving you a clearer picture of how your employees are performing. To add a utilization target for an employee, go to the employee details page, click "Edit", and you will find a new field "Target Utilization (%)". If you would like to send out weekly utilization emails, you can set this up from the "Working Time/Reminders" section in your Settings.
Team Reports: Team Leaders now have access to 2 reports, a weekly team report and a monthly team report. These reports will make it easier for team leaders to keep track of how their teams are spending their time, and how they are performing. Administrators can also access these reports, providing a simple way to get an overview of any team's performance.
We hope you like the new updates, if you need help or have any questions feel free to reach out to us here at 1time!
Hey, like this? Why not share it with a buddy?
Related Posts